Post by SHIMMER office on Aug 10, 2008 3:55:35 GMT -6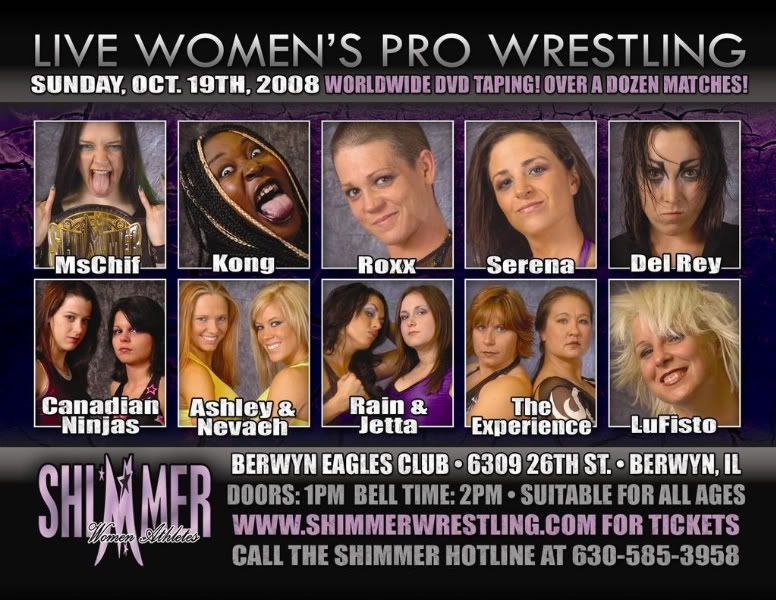 We are just days away from the next SHIMMER DVD taping in the Chicago area. Thirty-two wrestlers have been announced to appear on the show!
SHIMMER - WOMEN ATHLETES returns to live action on Sunday, October 19, 2008 at the Berwyn Eagles Club (6309 26th Street) in Berwyn, IL, just outside Chicago. Bell time for this Sunday taping is 2pm (an earlier start than our usual Saturday tapings in the past).
Volumes 21 and 22 of the SHIMMER DVD series will be filmed for
www.ROHwrestling.com
during the course of the October 19th taping. As part of the Volume 21 portion, the first SHIMMER Tag Team Champions will be crowned!
The brand new SHIMMER Tag Team Championship belts were recently unveiled after Reggie Parks and Rico Mann completed their work on them.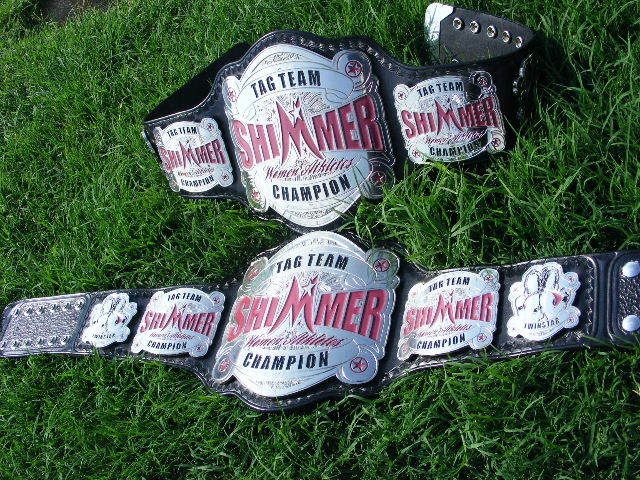 Twenty-eight women athletes
have been confirmed for participation in the main show portion of the October 19th taping, with four more announced to appear on the pre-show!
Already signed up to be a part of the SHIMMER Tag Team Championship Gauntlet are...
"The International Home Wrecking Crew" of Rain & Jetta

"The Experience" of Lexie Fyfe & Malia Hosaka

The Dayton, OH duo of Ashley Lane & Nevaeh

The Australian "Pink Ladies" of Madison Eagles & Jessie McKay

"The Canadian Ninjas" of Portia Perez & Nicole Matthews
Plus, also confirmed for the October 19th taping...
Amazing Kong

"Girl Dynamite" Jennifer Blake

"The Croatian Panther" Wesna Busic

Cheerleader Melissa

Daffney

Danyah

Serena Deeb

Sara Del Rey

Daizee Haze

Lorelei Lee

LuFisto

"The Latina Sensation" Mercedes Martinez

Miss Natural

SHIMMER Champion MsChif

Amber O'Neal

Portuguese Princess Ariel

Cat Power

Nikki Roxx
Be sure to get to the venue prior to bell time to catch several potential new prospects as part of SPARKLE in pre-show matches as well! The pre-show matches will begin at 1:30pm.
Announced for participation on SPARKLE are...
Cherry Bomb

Melanie Cruise

Sassy Stephie

Rachel Summerlyn
Front row tickets are SOLD OUT. General admission tickets to the October 19th taping are still available at a cost of $25 plus $1 shipping per ticket. You can use the PayPal buttons at the link below to place a ticket order online. Since we are just days away from the taping, ticket orders placed online from this point forward will be held under your name to be claimed at the door on Sunday.
Be advised that the last three SHIMMER tapings in Berwyn completely sold out, and we are approaching capacity for this show as well. If any tickets are left on the day of the show, they will be available at the door, but we strongly encourage you to secure your tickets in advance if you want to make sure you don't get turned away on the chance of a sellout.
You can order your tickets by PayPal right now at the link below.
www.freewebs.com/shimmerwomen/tickets.html
Over 3/4 of the available tickets for the taping have already been sold, so act quickly if you'd like to attend!
As always, the official SHIMMER afterparty will be at Michael Anthony's Restaurant & Bar, located at 6434 Ogden Ave. in Berwyn, approximately one mile from the Eagles Club. All ages are welcome at the afterparty.
Mark your calendars! This Sunday, October 19th - SHIMMER is back in Berwyn!