Post by SHIMMER office on Sept 4, 2006 13:12:04 GMT -6
SHIMMER - WOMEN ATHLETES News for 09.04.06
Headlines:
- LuFisto added to the SHIMMER roster for 10/22 taping!
- Daizee Haze wins ChickFight 6 in California!
- Volume 5 DVD to be released in just a few weeks!
LUFISTO COMES TO SHIMMER - OCTOBER 22!
----------------------------------------------------------
SHIMMER - WOMEN ATHLETES will hold its next live DVD taping on Sunday, October 22nd at the Eagles Club (6309 26th Street) in Berwyn, IL (just outside Chicago). Bell time will be 2pm. Tickets will be $10, and will be available at the door. We will begin taking seating reservations for the show during late September. Volumes 7 & 8 of the SHIMMER DVD series will be filmed during the course of the event.
This SHIMMER taping will be part of two consecutive nights of pro wrestling at the Eagles Club, as All American Wrestling will hold an event on Saturday night, October 21st, with a 7pm bell time. We will be featuring several SHIMMER stars in Special Attraction matches as part of the All American Wrestling show on the 21st in Berwyn as well.
You, the fans, asked for her, and on Volumes 7 & 8 of the SHIMMER DVD series, you'll get her added to the roster! Canadian star LuFisto makes her SHIMMER debut in October!
LUFISTO - Height: 5'3" Weight: 137 lbs. Montreal, Quebec. Debut: June 1997. Known as "The First Lady of Hardcore," LuFisto has traveled the globe displaying her willingness to put her body in the line in a variety of stipulation matches, despite the physical consequences. Whether participating in hardcore bouts or just highly physical strong style matches, LuFisto has built a reputation as one of the toughest women in the sport. She has competed in Japan for the AtoZ promotion and appeared as part of the International Women's Grand Prix tour in 2005. LuFisto's exploits in Mexico include wrestling for Lucha Libre Feminil as well as AAA, and of course she has competed across the Canadian independent scene over the course of her nine year career. During 2006, LuFisto has begun to wrestle more frequently in the United States, continuing to add to her resume.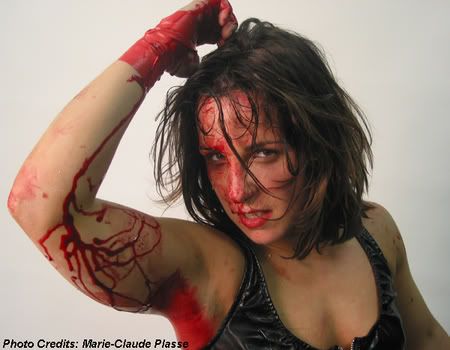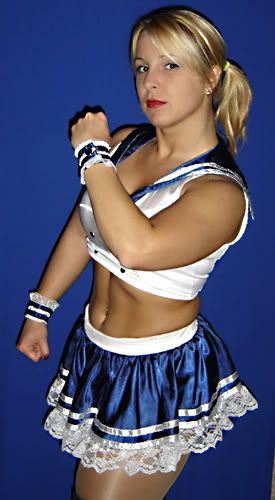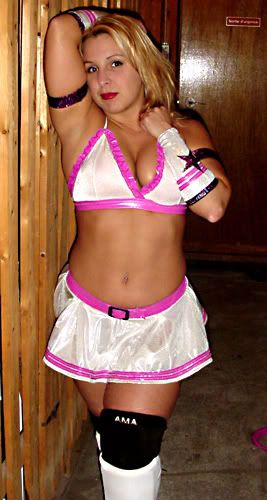 LuFisto joins the already announced list of talent for the 10/22 taping, which brings the total number of wrestlers to 21 thus far for Volumes 7 & 8. In addition to appearing on the Sunday, 10/22 SHIMMER taping, LuFisto will also be among the SHIMMER wrestlers competing the previous evening, Saturday, 10/21, as part of the AAW event at the Eagles Club in Berwyn!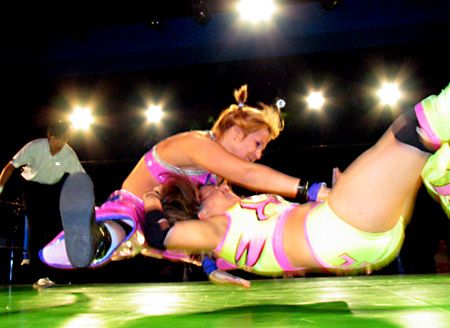 Above: LuFisto battles Ariel in Japan
Visit
www.lufisto.com/
for more information on her career.
Let's take a look at the list of announced talent so far for 10/22 in Berwyn...
Ariel
Cheerleader Melissa
Allison Danger
Serena Deeb
Sara Del Rey
Lexie Fyfe
Daizee Haze
Malia Hosaka
Josie
Rebecca Knox
Lacey
Lorelei Lee
LuFisto
Mercedes Martinez
MsChif
Amber O'Neal
Portia Perez
Rain
Tiana Ringer
Cindy Rogers
Nikki Roxx
Signed to appear on the Saturday, 10/21 AAW event thus far are Daizee Haze, Sara Del Rey, Allison Danger, MsChif, and LuFisto. Look for more SHIMMER talent to be added to the 10/21 card during the coming weeks as well.
Mark your calendars, and make your plans to be there live for Volumes 7 & 8 of SHIMMER - WOMEN ATHLETES!
This announcement thread is locked - please post your reactions in the News & Announcements Thread at shimmerwomen.proboards50.com/index.cgi?board=shimmer&action=display&thread=1155189326