Post by SHIMMER office on May 30, 2014 0:14:58 GMT -6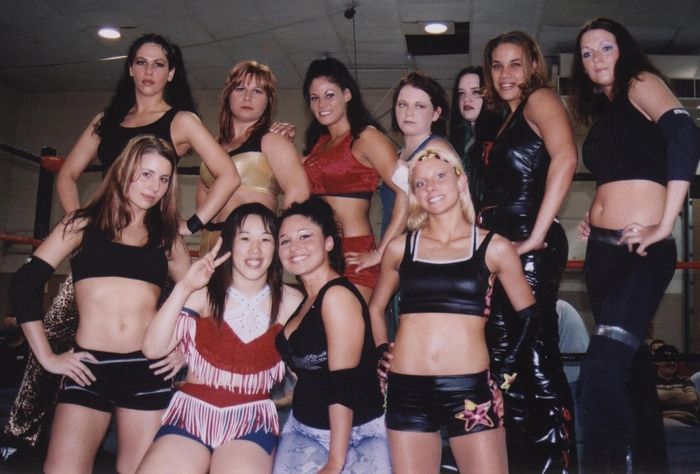 Today marks the 10th anniversary of a very significant event in the evolution of the North American women's wrestling scene.
On May 30, 2004 in Hammond, Indiana, Ian Rotten's IWA Mid-South Wrestling and Ed Chuman's NWA Midwest Wrestling presented a tournament to crown their inaugural women's champion. Allison Danger, Lexie Fyfe, Tracy Brooks, Mickie Knuckles, MsChif, Mercedes Martinez, Rain, Daizee Haze, Becky Bayless, Sumie Sakai, and Lacey comprised the talent pool for the event, which saw Lacey come out the winner, defeating Mercedes Martinez and Daizee Haze in a three-way elimination tournament final.
Ian gave me the opportunity to handle putting the tournament together, after working closely with the IWA women's division during the months leading up to the show. At the time, running a women's show was definitely a risk on IWA's part, since something like that was an unproven draw in the area. A couple of tag team matches featuring IWA guys like Chris Hero, CM Punk, Samoa Joe, Homicide, BJ Whitmer, and Tracy Smothers were added to the show, as a way to help guarantee a decent crowd. Punk and Jimmy Jacobs ended up acting as managers on the show, and Jerry Lynn also served as a locker room agent for the tournament matches.
The show was Lexie Fyfe's return to IWA competition after appearing for the promotion briefly about three years earlier near Louisville. It was also was the midwest debut of Mercedes Martinez, who had a lot of buzz on the east coast as a standout competitor. Mercedes would go on to become the 2nd holder of the title, defeating Lacey at the Ted Petty Invitational tournament later in the year. Lexie and Mercedes served as solid first and second round opponents for Mickie Knuckles, who was still in her first year as an active wrestler, and was the only "home grown" IWA female talent, trained by Ian and Hero. Showing that she could hang with the two more experienced "outside talents" in the first two rounds helped to display Mickie's progress as a wrestler to the IWA fan base. That weekend also marked the first appearances in IWA for Sumie Sakai. Though Becky Bayless was mainly a manager at the time, she stepped up to the plate to wrestle in the tournament when we had to deal with some last minute cancellations. The remainder of the participants in the tournament had all been making occasional appearances on IWA cards during the months leading up to the show, really establishing the division.
The show ended up doing better at the gate than expected, and was an immediate strong seller for Smart Mark Video in the weeks that followed. Though plans to do subsequent IWA women's shows during the winter of 2004 and then the spring of 2005 all ended up falling through (mainly for financial reasons, as IWA was always struggling from show to show), it was the success of Volcano Girls that really gave me the motivation to try something further with a women's wrestling product in this area. I ended up departing IWA a little over a year later, and Danger and I launched SHIMMER shortly thereafter.
That 2004-2006 period was vital as the building blocks for a strong women's wrestling scene in North America during the years that followed. Prior to that, the PGWA had been doing their thing on occasion in North Carolina, and then Tennessee at about the same time we were getting the IWA women's division rolling. Kiryoku Pro in Pennsylvania (which is where I first saw Mercedes) and NECW/WWW in Boston were making strides as well. October of 2004 saw the first ChickFight tournament in California, promoted by APW. Afa the Wild Samoan's WXW also had their "Elite 8." ECCW did their SuperGirls show in Canada. Before you knew it, several additional all female promotions began to form in their own regions, from ALF and later NCW Femmes Fatales in Montreal, to WSU in New Jersey, to eventually SHINE in Florida. So many of the talented women who were a part of Volcano Girls in 2004 played important roles during the ten years that followed, both in helping one another improve in the ring, and also handing down their knowledge to the younger generation of wrestlers just getting their start.
In early 2005, we briefly added the California girls to the IWA mix, with Sara Del Rey and Cheerleader Melissa coming in, as well as Ariel from New England (the eventual 3rd title holder). Sara and Melissa obviously became two of our main event talents for SHIMMER, never missing a show until they either got signed by Vince McMahon or needed to be hospitalized~! Lacey and Daizee tore it up feuding with one another in IWA as well as ROH, and were the fitting first SHIMMER main event as a result of their great in-ring chemistry. Daizee would later become the trainer of the women at the ROH school. Tracy and Mickie would both have runs on television for TNA during one of the best times in history for a women's division on a televised wrestling product. Same with Becky getting an opportunity with TNA. Mercedes has been one of the most consistently excellent wrestlers, night in and night out, for every promotion she has worked for throughout the world, for well over a decade. Though no longer active wrestlers today, Allison Danger and Lexie Fyfe are still key figures behind the scenes at SHIMMER, and of course Lexie works very hard as the producer of the SHINE iPPVs in Florida, while also still running her own women's wrestling web site. As the 2nd SHIMMER Champion, MsChif had the longest reign thus far, and was one of the real faces of the promotion. After the Minnesota Home Wrecking Crew made their mark as a tag team for several years, Rain would also make it to TV with TNA, and later became the top star and first champion for SHINE. Each of these wrestlers made their own mark within the industry.
And Joey Eastman ring announced! And he had hair! So did Bryce Remsburg, who refereed!
It's crazy to think that it's been ten years since Mike Burns asked me during intermission what we should title the videotape, and I jokingly said "Volcano Girls" because I was a big fan of Veruca Salt. Time flies. Later this year, Smart Mark Video has plans to release a remastered version of the DVD of the show, for which I've already signed on to contribute a 2014 bonus commentary track when the time comes, likely alongside referee PJ Drummond, who actually watched Volcano Girls from the seats as a fan that day. It should be an interesting look back at what turned out to be an important event for everyone involved.
Thanks to all of the women who participated in the show, all of the male wrestlers who helped out, and of course Ian and Ed. Without the existence of Volcano Girls in Hammond ten years ago, there probably wouldn't have been a SHIMMER for us to be celebrating nine years of when we return to Berwyn this fall.
dp