Post by SHIMMER office on Sept 25, 2012 9:23:39 GMT -6
SHAZZA McKENZIE & RHIA O'REILLY ADDED TO SHIMMER 49-52!

SHIMMER - WOMEN ATHLETES is pleased to formally announce the addition of
SHAZZA McKENZIE
and
RHIA O'REILLY
to its October 27th & 28th weekend of events at the Berwyn Eagles Club (6309 26th Street) in Berwyn, IL! Volumes 49-52 of the SHIMMER series will be filmed during the course of that weekend. Visit
www.shimmerwrestling.com/
for tickets.
Australia's
Shazza McKenzie
made her SHIMMER debut earlier this year, both forming a tag team duo with Veda Scott as well as entering the singles ranks. During one of her initial outings, Shazza had the valuable, yet terrifying opportunity to square off against Saraya Knight. During recent months, McKenzie has been in action back in Australia for the PWA. Shazza returns to the United States next month, not only for SHIMMER 49-52 in Berwyn, but also to participate in the SHINE 4 iPPV in Ybor City, FL one week earlier.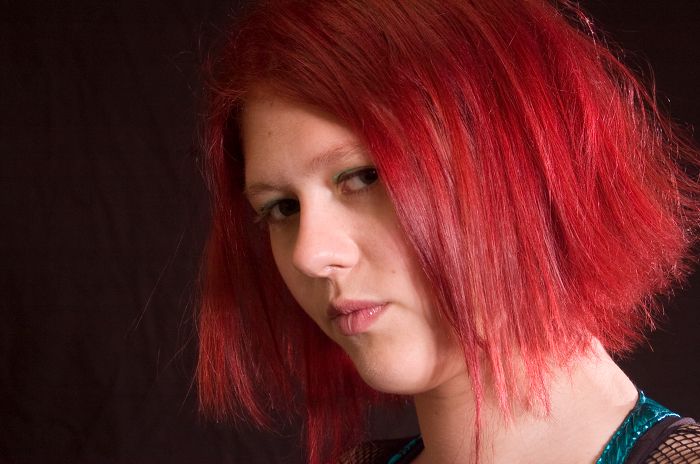 Belfast, Northern Ireland's
Rhia O'Reilly
has quickly become known for her frequent travel around the world, all in the quest of becoming the most well rounded competitor possible. Rhia is a wrestler who briefly relocated to Calgary, Alberta, Canada to train under the instruction of Lance Storm. During the time since, she has ventured to other parts of Canada, competed throughout Europe, and participated in two live SHIMMER tapings in Berwyn. Next month will mark Rhia's third set of Eagles Club appearances. She will also participate in SHINE 4 on October 19th in Florida.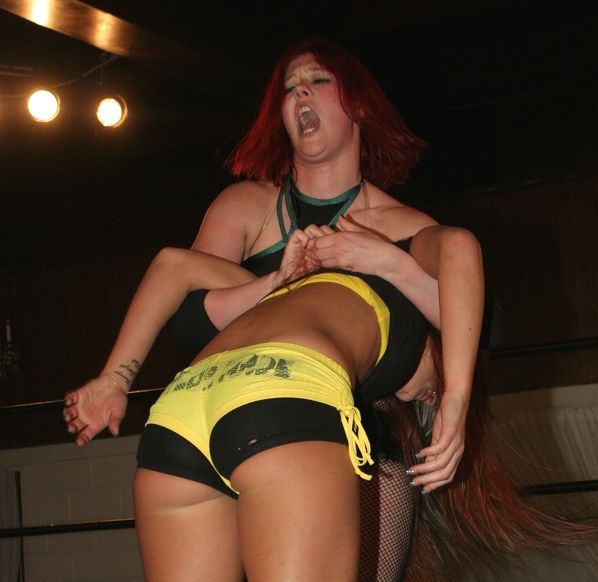 Shazza and Rhia join the following previously announced competitors who will participate in the SHIMMER 49-52 tapings: SHIMMER Champion Sweet Saraya Knight, SHIMMER Tag Team Champions The Canadian Ninjas, Cheerleader Melissa, MsChif, Mercedes Martinez, Allison Danger, Leva Bates, Hiroyo Matsumoto, Ryo Mizunami, Kana, Tomoka Nakagawa, Athena, Christina Von Eerie, Allysin Kay, Yumi Ohka, and Kellie Skater. Look for more names to slowly be revealed during the remaining weeks leading up to the events. Over 30 of the top female wrestlers from around the world will be a part of the festivities!
General admission tickets for the SHIMMER 49-52 events are still available at a cost of $30 per full day of taping (two full length DVDs worth of live matches each day), and can be purchased online right now by visiting
www.shimmerwrestling.com/
and ordering by PayPal. If you would like to purchase tickets via money order, please E-mail shimmernews@yahoo.com for mail order instructions.
In addition to SHIMMER 49-53 on October 27th & 28th at the Berwyn Eagles Club, our friends at AAW: Professional Wrestling Redefined will present "War Is Coming" in Berwyn that Friday night, October 26th. Already signed is a SHIMMER Title Match pitting Saraya Knight against former SHIMMER Champion MsChif! Also announced so far are Athena, Christina Von Eerie, and Nicole Matthews. Visit
www.aawrestling.com/
to purchase tickets.
Make your plans now to be a part of the weekend of SHIMMER tapings which will include the milestone SHIMMER 50 event. Mark your calendars, and join us live!
Here's a look at the other most recent additions to the SHIMMER 49-52 talent pool...
Upon her SHIMMER arrival in 2009, Australia's
Kellie Skater
made it known to everyone who would listen, and even those who didn't want to hear about it, that she was an indestructible tank of a wrestler, who feared no opponent and would steamroll all competition put in her path. More often than not, Skater would bite off more than she could chew, after issuing open challenges and frequently ending up on the receiving end of beatings from some of the toughest opponents in the world.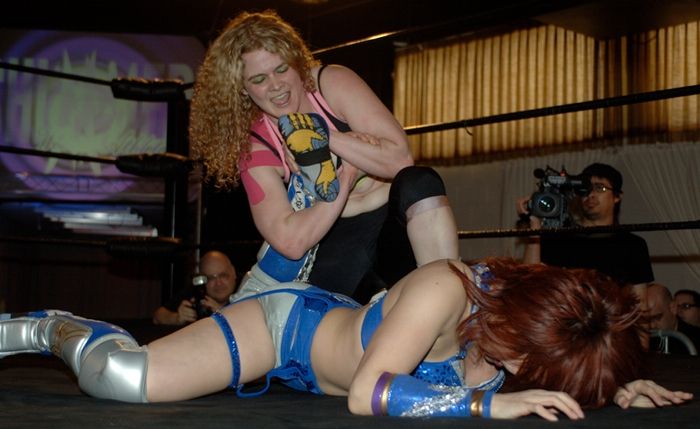 As time passed, Kellie's overly confident attitude actually began to pay great dividends. Seemingly proving her indestructibility, Skater has been able to walk away from every fight she has gotten herself into, and has learned a thing or two along the way from each top notch opponent she has faced inside the ring, from Cheerleader Melissa to Mercedes Martinez, Serena Deeb to Misaki Ohata, Amazing Kong to Hiroyo Matsumoto, and more.
During late 2011, Kellie went on an extended tour of Japan where she continued to both train with and battle against some of the best female wrestlers in that part of the world. Confident as ever in her own ability, at the last set of SHIMMER tapings, Skater welcomed the challenges of joshi athletes such as Ray and Kana, earning even more respect as a competitor in the process.
Last year,
Yumi Ohka
made her SHIMMER debut in tremendous fashion, against inaugural SHIMMER Champion Sara Del Rey on SHIMMER 41. The match served as an excellent example of why Ohka is one of the top stars in her home promotion, Pro-Wrestling WAVE. Yumi also battled another SHIMMER vet in Serena Deeb, as well as some of the younger, rising stars on the SHIMMER roster, including Courtney Rush and Mia Yim. During those bouts, Ohka put her arsenal of kicks and suplexes on display for the Berwyn fans. In less than six weeks, Yumi joins the Joshi4Hope crew once again for her second American visit.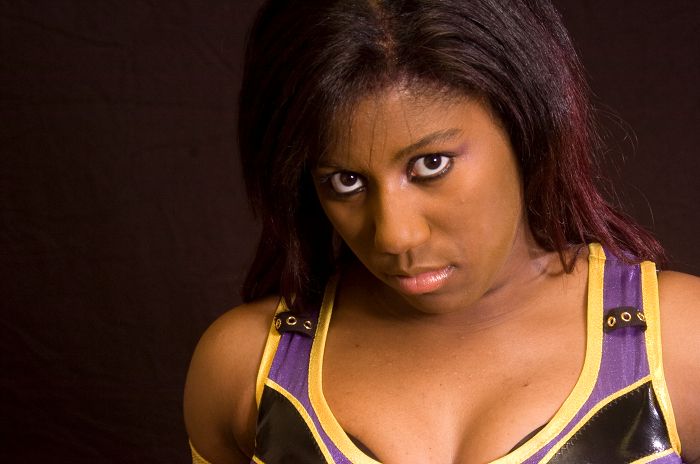 One of the standout stars of the last set of SHIMMER tapings was
"The Wrestling Goddess" Athena
. With her fantastic agility and overall athleticism inside the ring, she has quickly grown into one of the most popular SHIMMER competitors. Athena's rivalry with SHIMMER original Mercedes Martinez helped to firmly establish Athena as a major player within the SHIMMER ranks. Excellent outings against Nicole Matthews, Sassy Stephie, and international high flying star Ray earlier this year only served to cement her position. Athena will also appear at AAW on 10/26, the night before SHIMMER.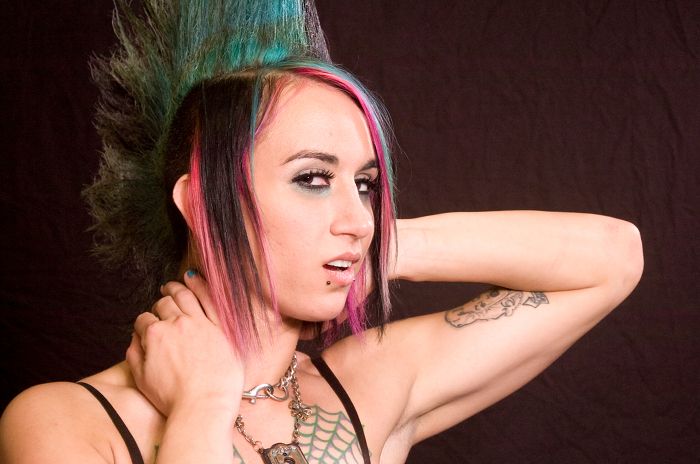 Another of SHIMMER's true rising stars here in 2012 is
Christina Von Eerie
. Upon her arrival, she immediately battled with established SHIMMER veterans including Sara Del Rey, Mercedes Martinez, and Cheerleader Melissa. Christina later went on to form the successful "MSEERIE" tag team with former SHIMMER Champion MsChif, both in Berwyn as well as on the SHINE events in Florida. Earlier this year, Von Eerie had the chance to step in the SHIMMER ring against foreign talents including LuFisto, Kana, and Kalamity. She is certainly someone to keep your eyes on, both in the singles picture as well as with MsChif in the tag team division. Christina will also appear at AAW on 10/26, the night before SHIMMER.
As was first revealed by Lenny Leonard during commentary on the SHINE 1 iPPV, one of the women who will be making her SHIMMER main show debut on October 27th & 28th is Detroit's
Allysin Kay
. She previously appeared at the Berwyn Eagles Club as part of the SPARKLE pre-show bouts just prior to SHIMMER 41 during late 2011. During recent months, Allysin formed the "Made In Sin" tag team with partner Taylor Made at the initial SHINE events. We look forward to seeing what Allysin Kay brings to the SHIMMER main roster in less than six weeks.
After having to miss the last set of SHIMMER tapings due to her busy schedule in Japan, the Joshi4Hope office has arranged for
Tomoka Nakagawa
to return to SHIMMER competition next month. Nakagawa has had some of the most exciting matches of the past several years inside the SHIMMER ring, often crossing paths with her rival Ayumi Kurihara.
Tomoka and partner Daizee Haze made history by capturing the SHIMMER Tag Team Championship in a high impact tag team bout against Hiroyo Matsumoto & Misaki Ohata on SHIMMER 40, only to lose them on SHIMMER 41 to the team of Kurihara & Ayako Hamada. Nakagawa later went on to trade victories with former SHIMMER Champion MsChif, as well as take on Kalamity in singles action.
"The World Famous" Kana
made her American professional wrestling debut in late 2011, appearing for both SHIMMER and CHIKARA. Upon her U.S. arrival, Kana refused to even shake the hands of any of the other competitors on the roster, including SHIMMER originals such as Cheerleader Melissa and Sara Del Rey. However, following an intense battle against Canada's LuFisto, Kana finally deemed a competitor on the roster as having earned her respect, and shook LuFisto's hand.
Through her friendship with LuFisto, Kana slowly began to accept the other members of the roster, granting post-match handshakes to additional opponents in subsequent matches. The two went on to form a successful tag team in early 2012, competing in a memorable hard hitting match against Hailey Hatred & Kalamity, as well as a bout against the "MSEERIE" duo of MsChif & Christina Von Eerie.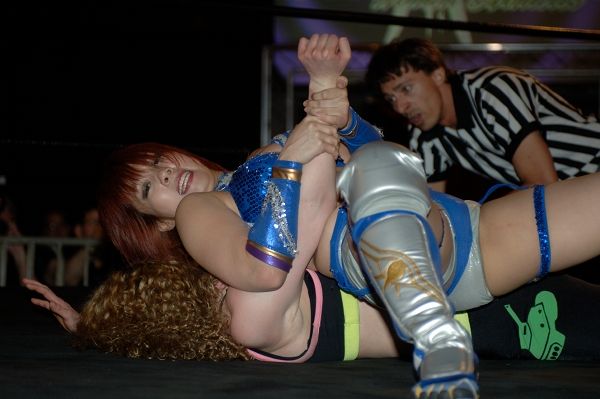 On the singles side of things, Kana has faced many of the staples of the North American women's wrestling scene in SHIMMER, from LuFisto to Del Rey to Melissa to Mercedes Martinez. She also squared off against fellow globetrotters Mia Yim and Kellie Skater. Having already proven her worth in both the singles and tag team ranks, next month Kana will make her third trip to Berwyn for SHIMMER competition!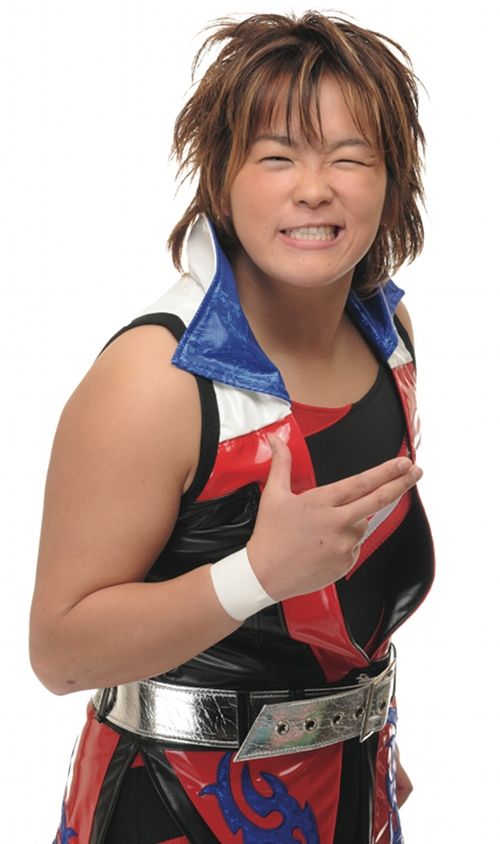 Ryo Mizunami
comes to us from the Pro-Wrestling WAVE promotion in Japan, through the assistance of the Joshi 4 Hope office. Mizunami made her wrestling debut in 2004 for GAEA, but would later get the bulk of her early experience under the guidance of Meiko Satomura at SENDAI Girls' Pro-Wrestling beginning in 2007. Known for her strength, Mizunami has an array of suplexes in her arsenal, including a very effective Uranage. Not only will Mizunami be a part of SHIMMER 49-52 in Berwyn, but she will also participate in NCW Femmes Fatales X on November 3rd in Montreal to complete her first tour of North America.
Visit
www.pro-w-wave.com/Mizunami/index.html
to view Mizunami's WAVE profile.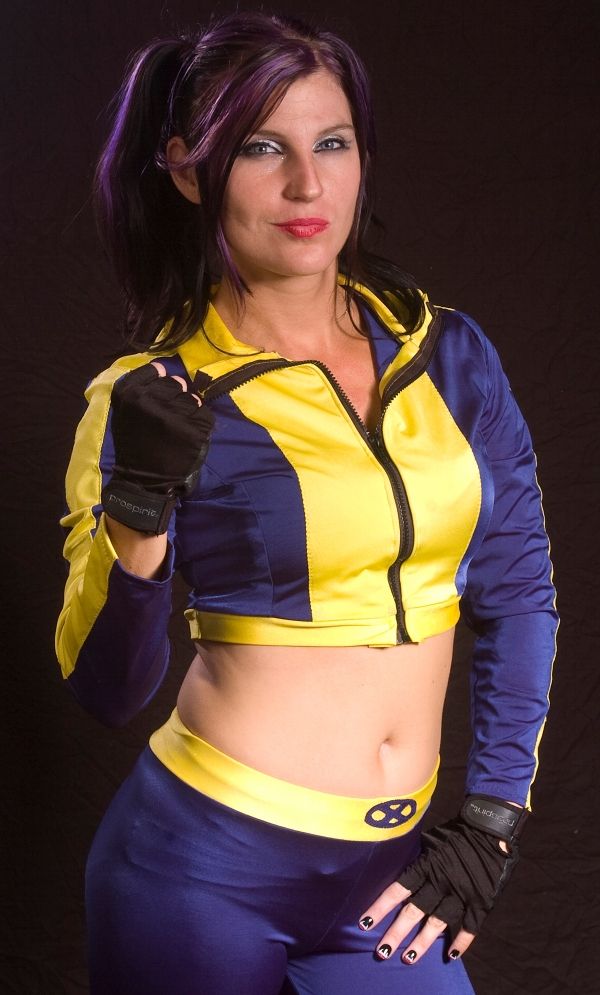 Leva Bates
has made it no secret that she and "Regeneration X" tag team partner Allison Danger are focused on capturing the SHIMMER Tag Team Championship. At the recent SHINE 2 event in Florida, Leva scored a big victory in a singles match against one of the current titleholders, Portia Perez. After the match, Leva proclaimed on the microphone it was just the first step to Re-X taking down The Canadian Ninjas and becoming SHIMMER Tag Team Champions.
Hiroyo Matsumoto
made her SHIMMER debut at SHIMMER 30 in April of 2010, and quickly made a strong impression on American fans with her outings against Sara Del Rey, LuFisto, and Mercedes Martinez. She later went on to win the SHIMMER Tag Team Championship along with partner Misaki Ohata in early 2011 at SHIMMER 37. After a brief title reign, Matsumoto began to focus on singles competition in SHIMMER. In late 2011, Hiroyo battled the likes of Nicole Matthews, Kellie Skater, and Jessie McKay, and also challenged then-SHIMMER Champion Madison Eagles at SHIMMER 42, which was Hiroyo's first SHIMMER main event bout.
Though she was forced to miss the last set of SHIMMER tapings due to her busy schedule in Japan, the Joshi 4 Hope office has arranged for Hiroyo to return to North America during late October, to compete not only for SHIMMER in Berwyn, but also for NCW Femmes Fatales on November 3rd in Montreal!
( This announcement thread is locked for replies. Please post your comments in the Official SHIMMER 49-52 News & Discussion Thread at shimmerwomen.proboards.com/index.cgi?board=shimmer&action=display&thread=4490 )