Post by SHIMMER office on Dec 5, 2013 21:48:04 GMT -6
SHIMMER - WOMEN ATHLETES will be a part of the WWNLive Experience during WrestleMania weekend in New Orleans! SHIMMER 62 will take place on
Saturday, April 5th, 2014
at the
McAlister Auditorium
on the campus of Tulane University in
New Orleans, LA
. Visit
www.wwnlive.com/NOLA/TIX/tix-shimmer.htm
for tickets. First row stage seating and third row stage seating are sold out. Second row stage seating, as well as floor seating, is still available.
Then, SHIMMER returns to the
Berwyn Eagles Club
in
Berwyn, IL
on
Saturday & Sunday, April 12th & 13th, 2014
. Volumes 63-66 of the SHIMMER series will be filmed during the course of that weekend. Tickets are now on sale for both days of taping (featuring two full length shows each day).
Seating for the April 12th & 13th events is as follows: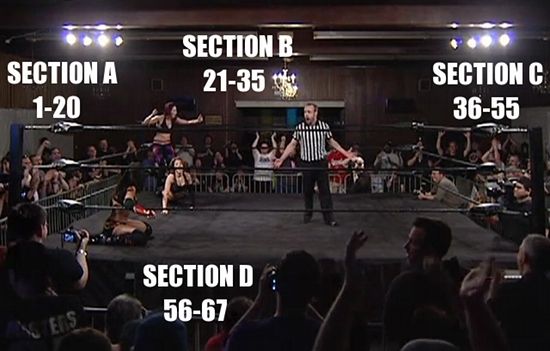 First Row Reserved: $80 per day
ACT FAST! ONLY TWO TICKETS LEFT! Available are seats 48 & 49, for Sunday only. Use the seating chart above for reference. E-mail shimmernews@yahoo.com ASAP if interested. An upgrade from existing GA or 2nd row tickets can be arranged.
Second Row Reserved: $40 per day

General Admission: $20 per day
Below are graphics which indicate which seats are still available in the SECOND ROW for each day. You can request specific seats in PayPal's Notes field if you wish to do so. We'll update these graphics as they continue to sell. Grab the seats you'd like while you still can!
(Open each image in a new window to view a larger size.)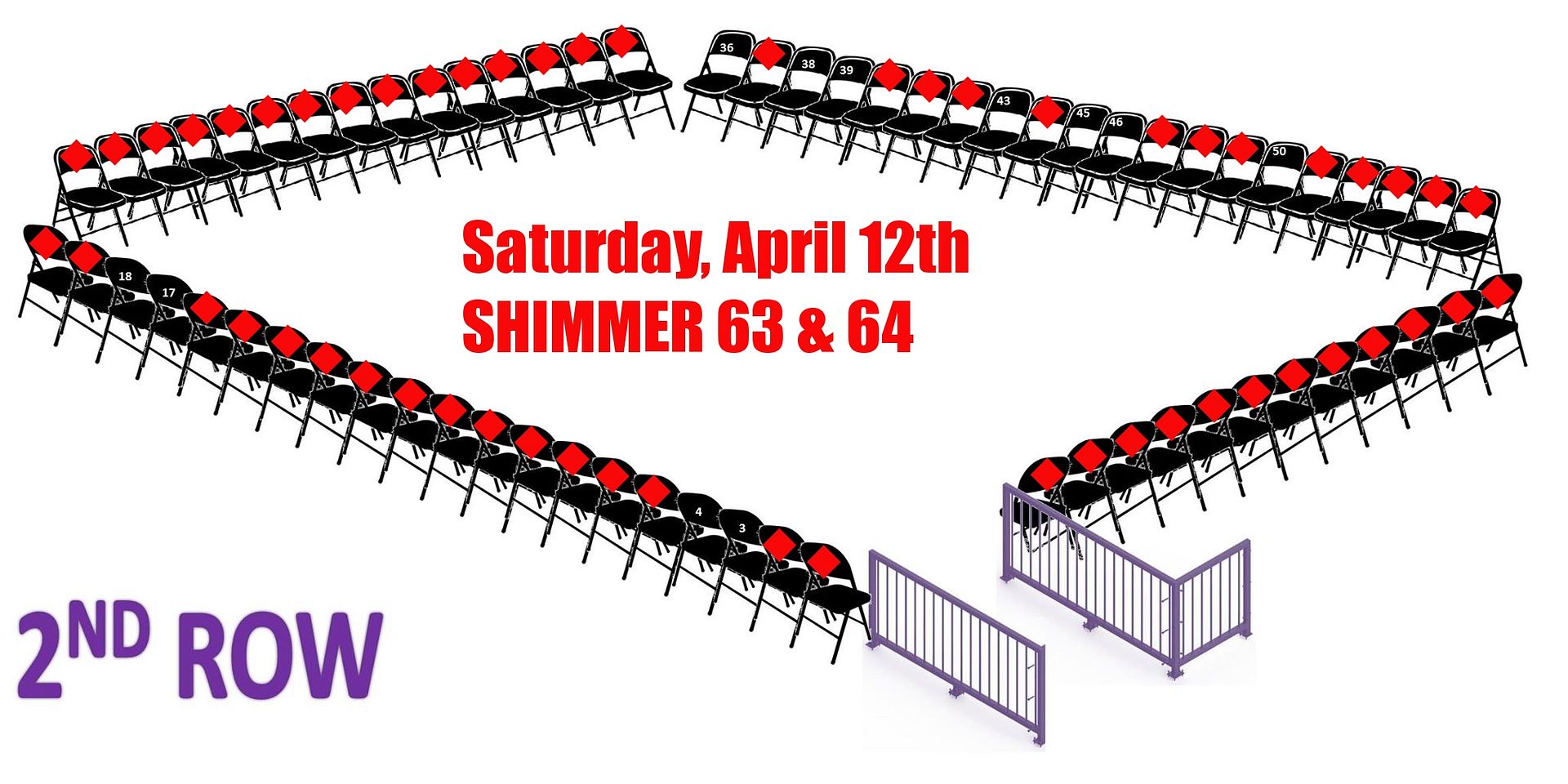 Use the PayPal buttons at
shimmerwrestling.blogspot.com/p/tickets.html
to order your tickets online. If you need to place a mail order for tickets, please E-mail shimmernews@yahoo.com for instructions.
General Admission seats (Third Row and back) are not numbered/reserved. You can purchase General Admission seats at
shimmerwrestling.blogspot.com/p/tickets.html
as well.
***
SHIMMER - WOMEN ATHLETES returns to live action during the month of April 2014! The dates and locations of the next five events in the SHIMMER series have been set. Mark your calendars, and join us live!
SHIMMER 62
Saturday, April 5th
McAlister Auditorium at Tulane University
6823 St. Charles Avenue
New Orleans, LA 70118
Tickets now on sale at
www.wwnlive.com/NOLA/TIX/tix-shimmer.htm
First Row Stage: SOLD OUT
Second Row Stage: $75
Third Row Stage: SOLD OUT
VIP Floor (Rows 1-10): $35
General Admission Floor (Rows 11+): $25
SHIMMER 63 & 64
Saturday, April 12th
Berwyn Eagles Club
6309 26th Street
Berwyn, IL 60402
Tickets now on sale at
www.SHIMMERwrestling.com
First Row Reserved: SOLD OUT
Second Row Reserved: $40
General Admission (Rows 3+): $20
SHIMMER 65 & 66
Sunday, April 13th
Berwyn Eagles Club
6309 26th Street
Berwyn, IL 60402
Tickets now on sale at
www.SHIMMERwrestling.com
First Row Reserved: $80 (Only 2 tickets left!)
Second Row Reserved: $40
General Admission (Rows 3+): $20