Post by SHIMMER office on Apr 3, 2012 18:35:33 GMT -6
SHIMMER RETURNS TO BERWYN OCT. 27 & 28!
Presented by
www.DeathGripClothing.com
SHIMMER - WOMEN ATHLETES returns to the Berwyn Eagles Club (6309 26th Street) in Berwyn, IL this
Saturday & Sunday, October 27th & 28th, 2012
. Bell time on Saturday is 2pm. SPARKLE pre-show bouts begin at 1:30pm. Volumes 49 & 50 of the SHIMMER series will be filmed on Saturday. Bell time on Sunday is 1pm. SPARKLE pre-show bouts begin at 12:30pm. Volumes 51 & 52 of the SHIMMER series will be filmed on Sunday. The events are suitable for all ages.
Officially announced thus far for participation in the SHIMMER 49-52 events are: SHIMMER Champion Sweet Saraya Knight, SHIMMER Tag Team Champions The Canadian Ninjas, Cheerleader Melissa, MsChif, Mercedes Martinez, Allison Danger, Leva Bates, Hiroyo Matsumoto, Ryo Mizunami, Kana, Tomoka Nakagawa, Athena, Christina Von Eerie, Allysin Kay, Yumi Ohka, Kellie Skater, Shazza McKenzie, Rhia O'Reilly, Davina Rose, Kc Spinelli, Melanie Cruise, Veda Scott, Sassy Stephie, Miss Natural, Taylor Made, Ayako Hamada, Su Yung, and Santana Garrett. More names will be revealed during the remaining days leading up to the events. Over 30 of the top female wrestlers from around the world will be a part of the festivities!
Front row seating is already sold out for the entire weekend. General admission tickets are still available, at a cost of $30 per full day of taping (two full length DVDs per day, so essentially $15 per DVD worth of live matches). Tickets can be purchased online right now by visiting
www.shimmerwrestling.com/
and using PayPal.
If you plan to attend, we strongly advise purchasing tickets in advance, on the chance of a sellout. Once we reach venue capacity, we must turn away those trying to purchase tickets on the day of the show.
Since the events are just days away, tickets purchased in advance from this point forward will be held for you at the door.
In addition to SHIMMER 49-52 on October 27th & 28th at the Berwyn Eagles Club, our friends at AAW: Professional Wrestling Redefined will present "War Is Coming" in Berwyn on Friday night, October 26th. Already signed is a SHIMMER Title Match pitting Saraya Knight against former SHIMMER Champion MsChif! Also on the card is a four-way bout of Athena vs. Christina Von Eerie vs. Nicole Matthews vs. Kellie Skater. Visit
www.aawrestling.com/
for more information. Tickets will be available at the door Friday night for AAW.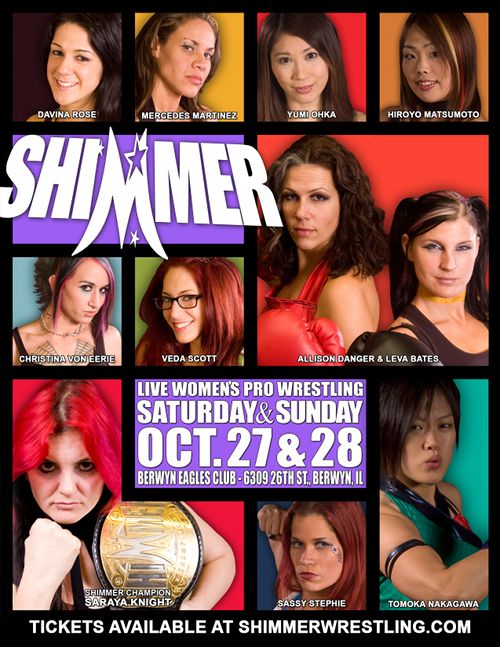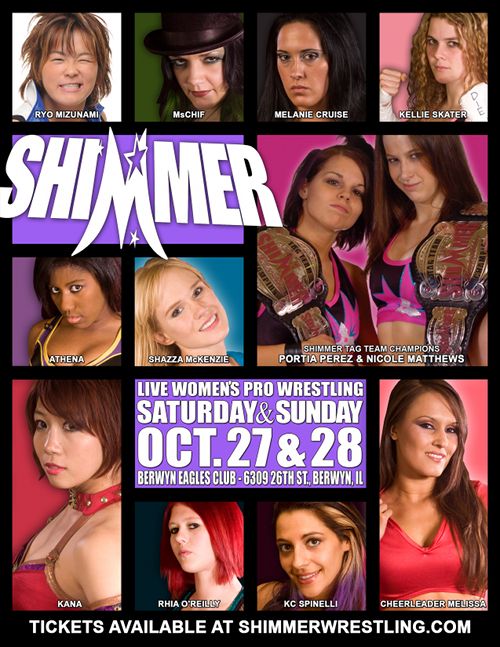 The after party each night that weekend will be at
Paisans Pizzeria & Bar, 6226 W. Ogden Ave. in Berwyn
, just over one mile from the Eagles Club.
Make your plans now to be a part of the weekend of SHIMMER tapings which will include the milestone SHIMMER 50 event. Join us live!
www.shimmerwrestling.com/